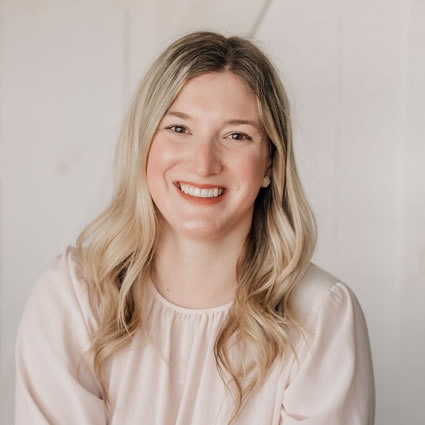 Meet Dr. Kirstie McDowell
Chiropractor, Contemporary Acupuncture
Dr. Kirstie McDowell grew up in Stouffville, Ontario where she participated in various sports growing up. She was heavily involved in competitive dance which led her to Chiropractic.
She was able to experience firsthand as a dancer and a teacher how Chiropractic care can help with injury management as well as positively enhance athletic performance. The exceptional care she received, combined with her passion for the human body, influenced her on her journey to become a chiropractor
Education
Dr. Kirstie graduated from McMaster University with an Honours Bachelor of Science degree in Kinesiology. During her time at McMaster, she was a rehab therapist with MacWheelers, an outstanding Spinal Cord Rehab Centre. She gained an appreciation for patient-focused care and the extraordinary impact exercise can have on recovery.
She continued her education at Canadian Memorial Chiropractic College where she obtained her Doctorate of Chiropractic Degree. During her clinical placements she gained experience treating individuals of all ages for acute, chronic and sports-related injuries.
Patient Centered Care
Dr. McDowell focuses on patient-centered care which includes evidenced-based manual therapy, soft tissue techniques, acupuncture, rehabilitation, and therapeutic laser.
Her vision is to help patients optimize their health and performance with individualized treatment plans so that they may excel in all aspects of their life. Her goal is to educate patients of the underlying causes of their condition and to provide them with the tools to take control of their own health and wellness.
Dr. Kirstie is certified in Contemporary Acupuncture from McMaster University. She has certifications in Active Release Technique, SMART Tools, Bioflex Laser Therapy and Athletic Movement Assessments. She continues to pursue her passion for learning through post graduate certification courses and staying current with the latest research.
EXPLORE OUR SERVICES

Around the Community
Dr. Kirstie is a proud member of the Canadian Chiropractic Association, Ontario Chiropractic Association, and is registered with the College of Chiropractors of Ontario. She is excited to get involved with the King community including the King Chamber of Commerce.
She holds her certification as an Emergency First Responder as well as a Level 2 Hockey Canada Trainer. She spent many years working with the GTHL Toronto Titans as a wellness coordinator and side-line trainer.
Dr. Kirstie tries to incorporate movement into her life through strength training, yoga and trail hikes with her husband and their dog Lily. She is forever learning whether it be self- directed reading, taking educational courses or chatting with colleagues including her sister who is also a chiropractor.
Outside of the office she has a passion for health and fitness along with traveling and spending time with her friends, family and pets.
Book Your Appointment
Get to know more about her when you book an appointment with us today.
---
Dr. Kirstie McDowell | (905) 558-2111