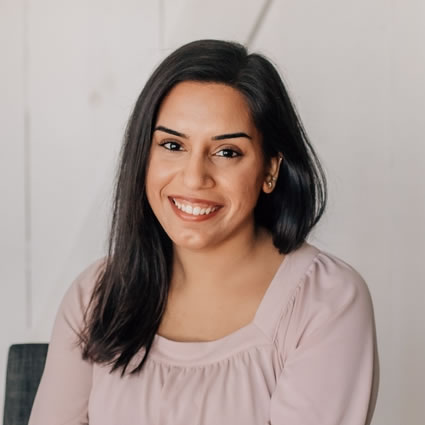 Meet Dr. Navleen Arora
Naturopathic Doctor
Dr. Navleen Arora is a registered Naturopathic Doctor in Ontario. In 2019, she graduated from the Canadian College of Naturopathic Medicine, where she gained clinical experience at the Robert Schad Naturopathic Teaching Clinic and the Brampton Naturopathic Teaching Clinic located in the Brampton Civic Hospital.
Experience & Memberships
Dr. Navleen was also on the Fibromyalgia and Myalgic Encephalomyelitis focus shift, where she treated patients suffering from chronic pain and fatigue. Prior to becoming an ND, she completed her Honors Bachelor of Science at McMaster University. Dr. Navleen is in good standing with the College of Naturopaths of Ontario (CONO).
She is also a member of the Ontario Association of Naturopathic Doctors (OAND), and the Canadian Association of Naturopathic Doctors (CAND). Dr. Navleen also holds prescribing rights in Ontario, which means she can provide injection therapies. Additionally, she is certified to do facial rejuvenation and cosmetic acupuncture, and can order blood work and do lab testing.
Helping Patients Reach Their Goals
Dr. Navleen is motivated to work with her patients to achieve their health goals, so that their health is no longer an obstacle to reaching their full potential. She does this by educating her patients so they can play an active role in their health, while also providing them with safe and effective natural therapies to address their health concerns.
NATUROPATHIC MEDICINE
Areas of Particular Interest
Some of her special interests include, but are not limited to:
Women's health and hormonal imbalances (such as PMS, menopause, PCOS, hypothyroid)
Anxiety
Pain management
Stress management
Improving energy and digestive concerns
Small Changes Can Make a Massive Difference
I want patients to know that they don't have to completely overhaul their life and go on an extreme diet that doesn't leave room for moderation. The best diet is one you can sustain for a long time.
Dr. Navleen wants to find out how she can help patients fit those small sustainable changes into their lifestyle.
Outside the Practice
Some fun facts about Dr. Navleen: Along with English, she can also speak Punjabi and Hindi. When not working, you can usually find her lifting weights at the gym, spending time with friends and family, or trying out new recipes in the kitchen.
Learn More Today
If you have more questions about Naturopathic Medicine and how it can benefit you, you are welcome to book a complimentary "15 Minute Meet & Greet" with Dr. Navleen. She looks forward to welcoming you to the practice!
---
Dr. Navleen Arora | (905) 558-2111