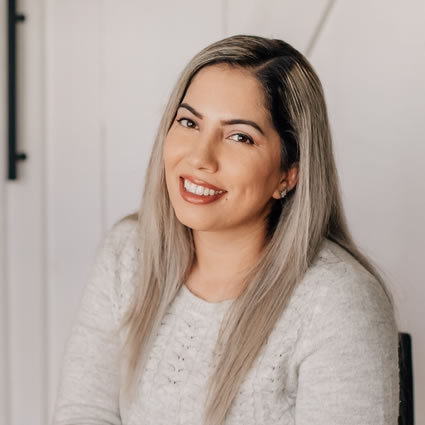 Meet Dr. Kiran Cheema
Chiropractor, Contemporary Acupuncture
Dr. Kiran Cheema graduated from Waterloo University with an Honours Bachelor of Science Degree, and then completed her doctorate at the Canadian Memorial Chiropractic College. As a chiropractor, she is passionate about providing high-quality patient care and believes in a multifaceted approach to optimal functioning, wellness and performance.
The Path to Nobleton Chiropractic and Rehab
Although Dr. Kiran owns a clinic in Barrie, she was in more of a managerial role than a hands-on one. She discovered our practice when she needed back pain relief. "They were also looking for a chiropractor, and I thought, 'this is what I have a passion for—treating clients.'"
As Dr. Kiran is also a mother of two young kids, she didn't have to travel as far to get to our practice so she can do what she loves professionally and be a mom to her children. Dr. Kiran joined our team in the fall of 2021.
Offering an Array of Therapies
Dr. Kiran uses a combination of treatments, including chiropractic mobilization and manipulation, soft tissue therapy, strength and conditioning from a rehabilitative view, and patient education. Dr. Kiran also focuses on creating individualized programs to meet your specific needs and health goals.
She has received additional training in acupuncture, massage therapy and cupping, all of which are used for acute and chronic overuse conditions. These techniques treat muscles, tendons, ligaments, fascia and nerves, and have been proven to be excellent tools in addressing and preventing repetitive stress and sports-related injuries.
In addition, Dr. Kiran has also had training in low intensity laser therapy (LILT), which is effective in addressing musculoskeletal and arthritic conditions. For a gentler treatment, Dr. Kiran uses a handheld instrument called an Activator tool as an alternative for restoring joint and spinal motion.
Over the past few years, Dr. Kiran has gained valuable experience working with a wide range of age populations and conditions. She enjoys building lasting relationships with her patients and seeing them get better.
EXPLORE OUR SERVICES
Outside the Practice
In her spare time, Dr. Kiran enjoys running, hiking, being outdoors and chasing after her two young children. She is an advocate of maintaining a healthy lifestyle for prevention of pain and recurring injuries. These beliefs have translated into practice by putting an emphasis on whole body health to ensure a quick and simple return to work and life!
Learn More Today
If you're interested in learning how Dr. Kiran can help you achieve your goals in health, book an appointment with her today. She can't wait to welcome you into the practice and help you get back to living the life you love.
---
Dr. Kiran Cheema | (905) 558-2111